When a new sculpture is designed and the initial mold is made, the artist then creates a plaster mother mold, shaped to the prototype in the minutest detail, thus preserving the precious original design throughout the years.
In the manufacturing of porcelain stoneware, the casting technique is ideal to obtain replicable products with clear-cut and complex shapes. Liquid clay is injected into the plaster mold, whose porosity allows water to be absorbed and the first layer of clay to dry and harden. Once any excess clay is removed from the mother mold, the mold can be opened to expose the still unpolished sculpture.
Every product is polished to correct imperfections and to smooth the surface. Artisans, guided by passion and experience, know the techniques to perfect every artwork with a mindful use of the available tools.
Inside its laboratory, Lineasette has a section dedicated to the research on color, which allows us to offer an exclusive range of colors: our study is therefore targeted to obtain the coloring and the polishing that better stand out on each artwork. The monochromatic coating of each sculpture is an engobe made of a mixture of clay, metallic oxides and siliceous sands giving a piece the rough, dotted color typical of Lineasette.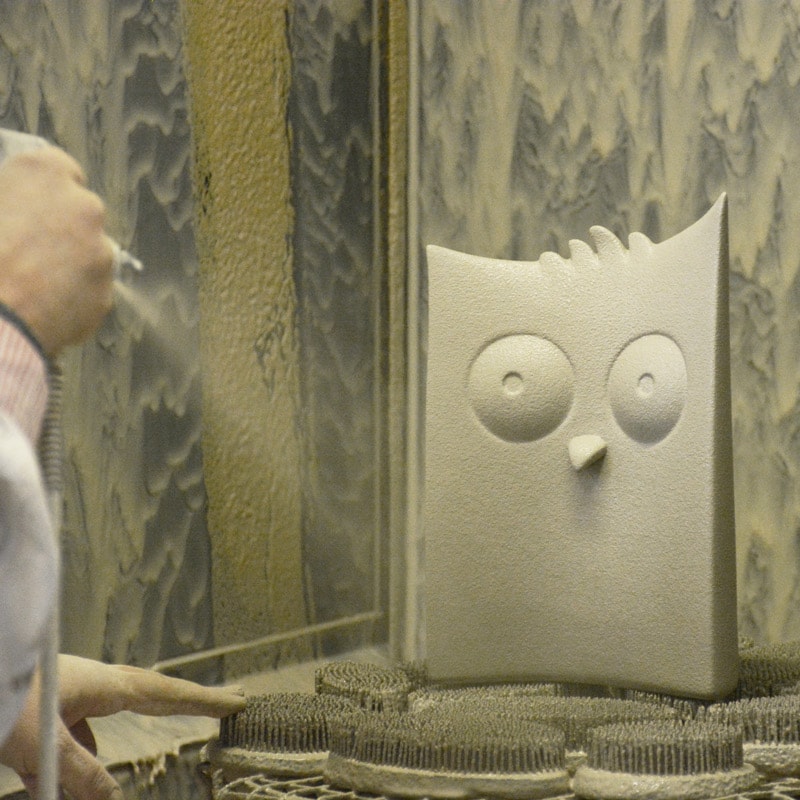 The underlying theme of every Lineasette creation is the painstaking attention to every detail. To create works of art which pursue an ideal of true beauty, it is crucial that every phase of the production process is handled with the utmost care. The trademark "Lineasette Made in Italy" engraved on a sculpture is an essential detail that denotes workmanship and increasing value.
Thanks to the last phase of the production process, rough clay is ennobled into porcelain stoneware through important chemical-physical transformations. As a result of the firing cycle (reaching 1200° C) porcelain stoneware becomes compact, shrinks by 11 percent and acquires its excellent features of impermeability and hardness.
The rough dotted final polishing creates gradual transitions of light and shade producing a delicate and harmonic chiaroscuro effect. Every piece is a small sculpture of pure and simple lines shaped by the hands of skilled artisans, who guarantee the quality of each piece. Lineasette delves for the soul, shaping the essence of the material to express its full, intimate potential in every shape.