Once a new sculpture has been designed and the original model has been made, a mother mould is created in plaster, built around the model to accurately bring out every detail. The precious work of design is thus synthesised in the mother mould, destined to preserve the original forms over the years.
The casting technique is the ideal method for handcrafted porcelain stoneware to obtain replicable articles with precise and complex shapes. The liquid clay is poured into plaster moulds, whose porosity allows the absorption of water and the solidification of a layer of clay. Once the mould has been emptied of excess clay, it can be opened so that the still raw sculpture can be removed.
Each item is polished to correct its imperfections and make the surface smooth and uniform. The artisans, guided by passion and experience, know how to enhance every piece thanks to a conscious use of the available tools.
Lineasette has a department in its workshop dedicated to colour research that allows it to offer an exclusive range of colours: the study is aimed at obtaining the colours and finishes that best highlight the pieces. The monochromatic coating of each sculpture is an engobe made of clay mixed with metal oxides and siliceous sands, which gives it that raw dotted colour, distinctive of Lineasette.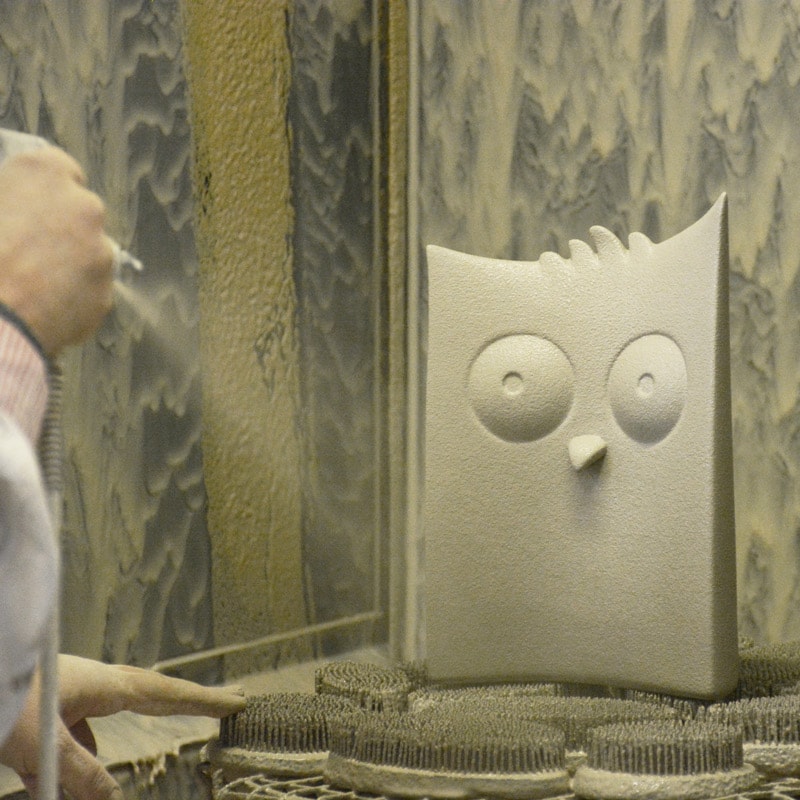 The common thread of every Lineasette creation is the meticulous attention to every detail. In order to create works of art that pursue beauty, it is crucial that every single step is done with precision. The application of the brand "Lineasette Made in Italy" is one of those crucial details that enhances and brands the craftsmanship of the work.
It is only thanks to the last step of production that the material is ennobled and is transformed from raw clay into vitrified stoneware through important chemical and physical transformations. Through the firing cycle, which reaches 1200°C, porcelain stoneware is compacted, shrinking by 11% and thus assuming excellent characteristics of waterproofness and hardness.
The rough dotted finish makes it possible to create gradual transitions of light and shade for a delicate and harmonious chiaroscuro effect. Each object is a small sculpture with pure and essential features, cared for by skilled craftsmen, guaranteeing the quality of the work. Lineasette lets the material express itself and searches for its soul, its most intimate essence.